Intuition Retain Strategic Leader Status In 2021 Digital Learning Fosway Group 9-Grid™
After a trying year fraught with uncertainty, Intuition are delighted to have retained Strategic Leader status in the 2021 Digital Learning Fosway Group 9-Grid™.
Fosway's 9-Grid™ is a unique five-dimensional market analysis model that helps buyers understand the relative position of solutions and providers in the learning and talent systems market.
Niall Darby, Intuition CEO, said this about the recognition:
"We are delighted to be recognized by Fosway as a "Strategic Leader" in the 2021 Fosway Group 9-Grid™ for Digital Learning. This marks the fifth consecutive year that Intuition has appeared as a Strategic Leader on the Fosway 9-Grid™. I would like to thank both our fantastic clients for their continued trust and all the teams here at Intuition for their hard work, adaptability, & ingenuity over the past 12 months."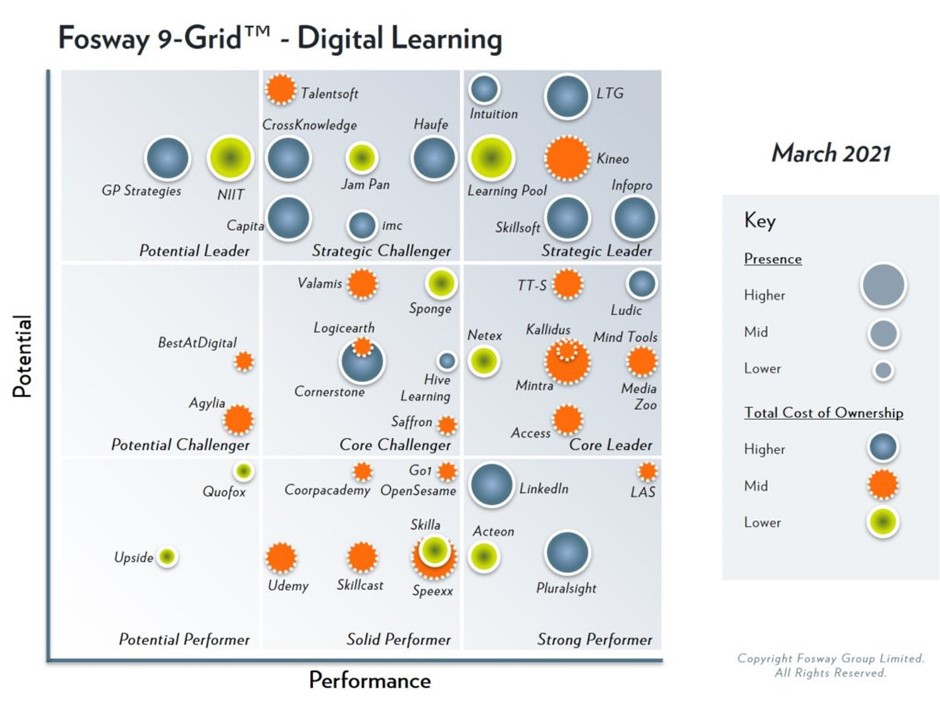 As a Strategic Leader, Intuition are seen as having high potential for prospective buyers. Companies within this 'strategic leader' band provide a rich suite of capability across a broad scope of features and have the sophistication to meet the needs of complex enterprise-scale customers.
Intuition are happy to have received this standing from Fosway and are looking forward to executing our plans in 2021 so we can build upon this position.
David Wilson, CEO of Fosway, said:
'Intuition's continued recognition as a Strategic Leader on the 9-Grid™ for Digital Learning is testament to its sustained growth and market presence across Europe. In a tough year, it has supported organizations through an unprecedented shift to digital and maintained its commitment to customer excellence and innovation in its portfolio.'
Download a copy of the 9-Grid™ for Digital Learning on the Fosway website: https://www.fosway.com/9-grid/digital-learning-2-2/
About the Fosway 9-Grid™
Fosway Group is Europe's #1 HR Industry Analyst. The Fosway 9-Grid™ provides a unique assessment of the principal learning and talent supply options available to organizations in EMEA. Now in its eighth year, the analysis is based on extensive independent research and insights from the Fosway's Corporate Research Network of over 150 customer organizations, including BP, HSBC, PwC, RBS, Sanofi, Shell and Vodafone.
Visit the Fosway website at www.fosway.com for more information on Fosway Group's research and services.