Intuition Retains Strategic Leader Status In 2022 Fosway 9-Grid™ for Digital Learning
For the sixth consecutive year, Intuition are delighted to have been recognized as a Strategic Leader in digital learning by Fosway.
Fosway's 9-Grid™ explores the market and solution trends that are currently impacting on digital learning. A buoyant market and more accessible innovation are providing corporate buyers with a huge opportunity to take their digital learning experience to the next level. The report shows that digital learning has a central part to play in helping organizations drive the skills agenda to support post-pandemic challenges including digital transformation, new ways of working and climate change.
Niall Darby, Intuition CEO, had this to say about the award:
"It is a great achievement to once again be recognized by Fosway as a Strategic Leader in this year's Fosway Group 9-Grid™ for Digital Learning. I would like to thank both our amazing clients for their continued trust throughout the year and the various teams here at Intuition who consistently show great ambition, innovation, and hard work."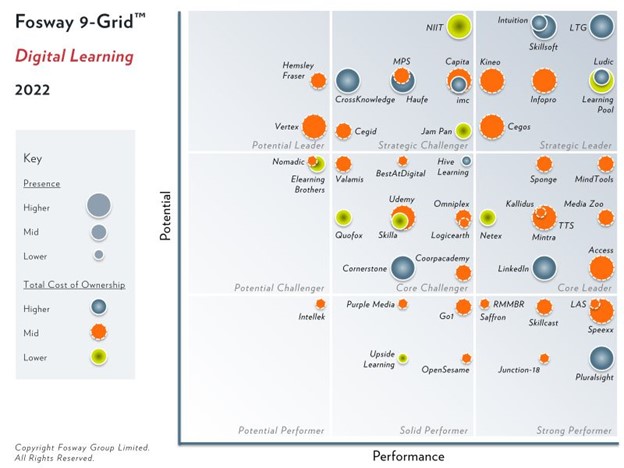 As a Strategic Leader, Intuition are seen as having high potential for prospective buyers. Companies within this Strategic Leader band provide a rich suite of capability across a broad scope of features and have the sophistication to meet the needs of complex enterprise-scale customers.
Intuition are happy to have received this standing from Fosway and are looking forward to executing our plans in 2022 so we can build upon this position.
"Intuition continues to focus on innovation across learning design, off-the-shelf content, learning platforms and services," said David Wilson, CEO, Fosway Group. "The company's ability to deliver complex projects for global customers at the height of the pandemic disruption was a great illustration of a high level of professionalism, passion and partnering."
About the Fosway 9-Grid™

The Fosway 9-Grid™ is a five-dimensional model that can be used to understand the relative position of different solutions and providers in a selected market segment.
It allows organizations to compare different solutions based on their performance, potential, market presence, total cost of ownership, and future trajectories across the market.
Download a copy of the 9-Grid™ for Digital Learning on the Fosway website: https://www.fosway.com/9-grid/digital-learning/