Hybrid Working Stats Every Professional Should Know in 2022
The world of work has gone through two revolutions in the space of less than 24 months.
First, there was the aggressive, unplanned, and forced shift to fully remote working brought on by the pandemic.
Now, the evolution of the revolution is underway as many organizations adapt hybrid working strategies to facilitate an increasingly digital-based workforce.
With all of this in mind, this article examines some of the key stats on the below areas of hybrid working:
General Stats on Hybrid Working
Hybrid Working Stats for Business Leaders
Stats on Learning in a Hybrid World
Stats on Health and Wellness
General Stats on Hybrid Working
66% of executives say their company is considering reorganizing its office space to accommodate hybrid work.
63% of high-growth businesses use hybrid work models.
A hybrid model that works for all generations could be difficult to come by: Three out of four Gen Zers (74%) want more face-to-face collaboration opportunities, compared to 66% for Gen Xers and 66% for Baby Boomers.
A hybrid model, in which employees can work remotely at least 25% of the time, is preferred by 83% of 9,326 workers polled in one survey.
92% of those polled in one survey expect to work from home at least once a week, and 80% expect to work from home at least three times a week.
Due to new COVID-19 variants, 66% of organizations are delaying reopening their offices.
One study found that most employees will be expected to come into the office 3 or 4 days per week.
Related article: Remote Working Statistics You need to Know in 2022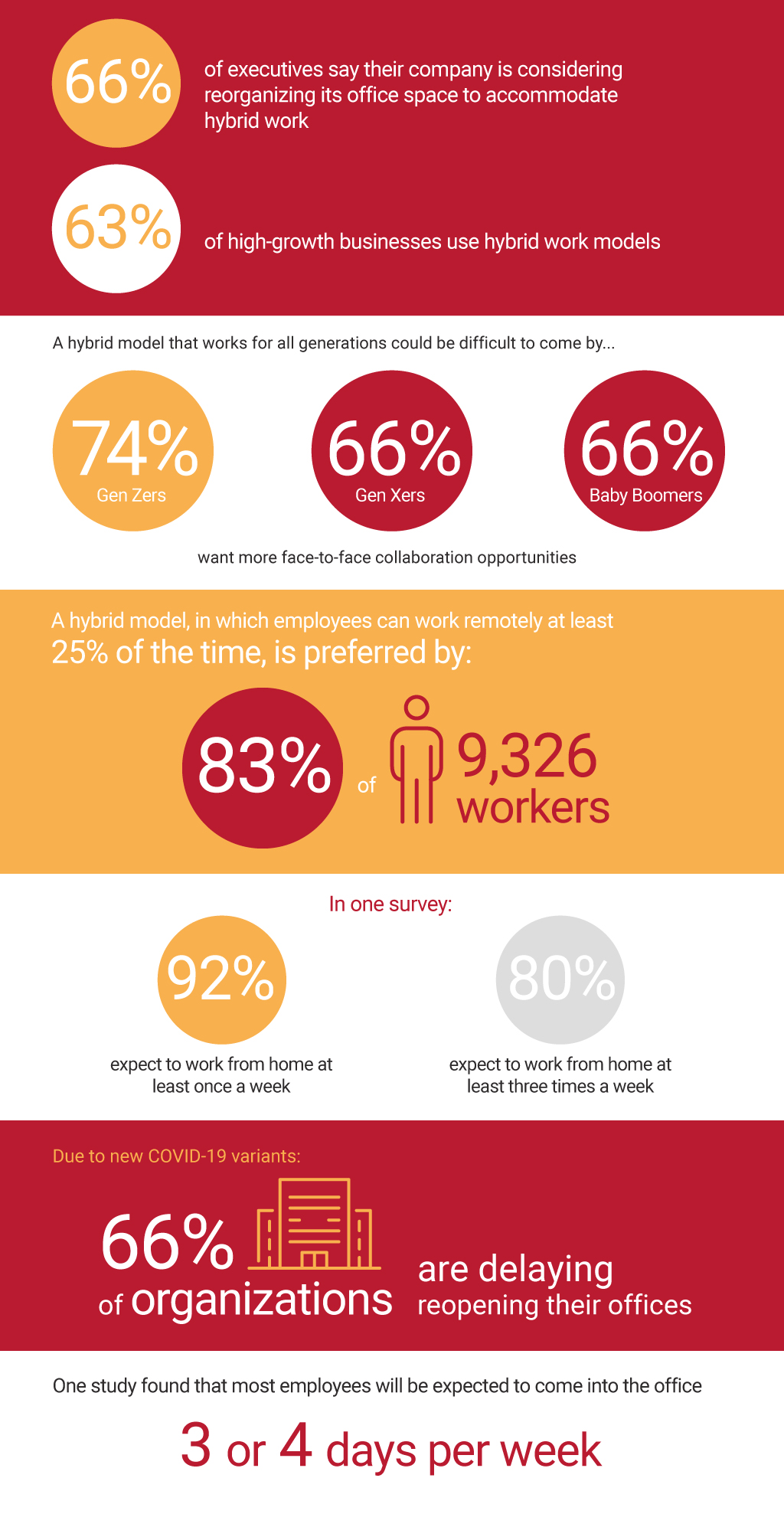 Hybrid Working Stats for Business Leaders
Only 57% of employees say their organization's culture embraces flexible work, despite the fact that 75% of executive leaders believe they are already operating within a flexible culture.
71% of executives say that their company's leadership has expressed a desire for work conditions to return to their pre-pandemic model.
Compared to 69% of executives, only 41% of employees believe senior leadership acts in their best interests when it comes to deciding on a work model.
In a recent study, only 5% of employers mentioned fully remote work as a possibility in the future, while 51% support the hybrid work model.
Over 97% of employers say they will not reduce pay for employees who work partially from home. However, 21% would adjust salaries based on an employee's contribution and geographic location.
Related learning program: Workplace now – The Essential Human Skills Suite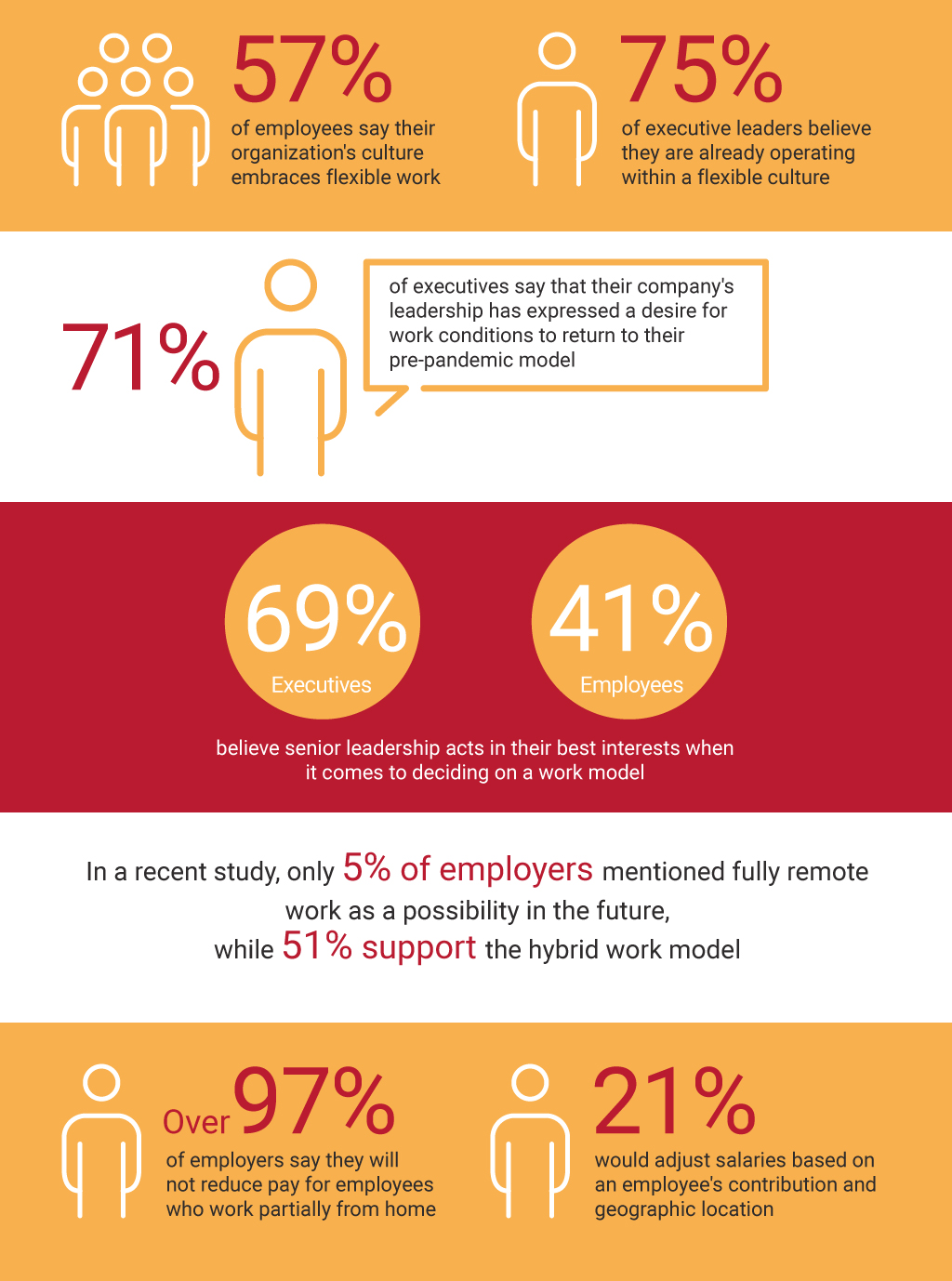 Stats on Learning in a Hybrid World
57% of today's learning and development professionals expect to spend more on online learning in the near future.
Online learning in a hybrid world is often delivered via mobile, with 70% of modern-day organizations offering courses via this medium.
The eLearning industry is expected to grow to a value of 1 trillion US dollars by 2027. For reference, the market value in 2020 was estimated to be 250 billion.
94% of today's employees will stay at their organization longer if more of an emphasis is placed on learning as a business function.
Demand for online learning has increased by 400% since the onset of the pandemic and the shift to remote/hybrid working.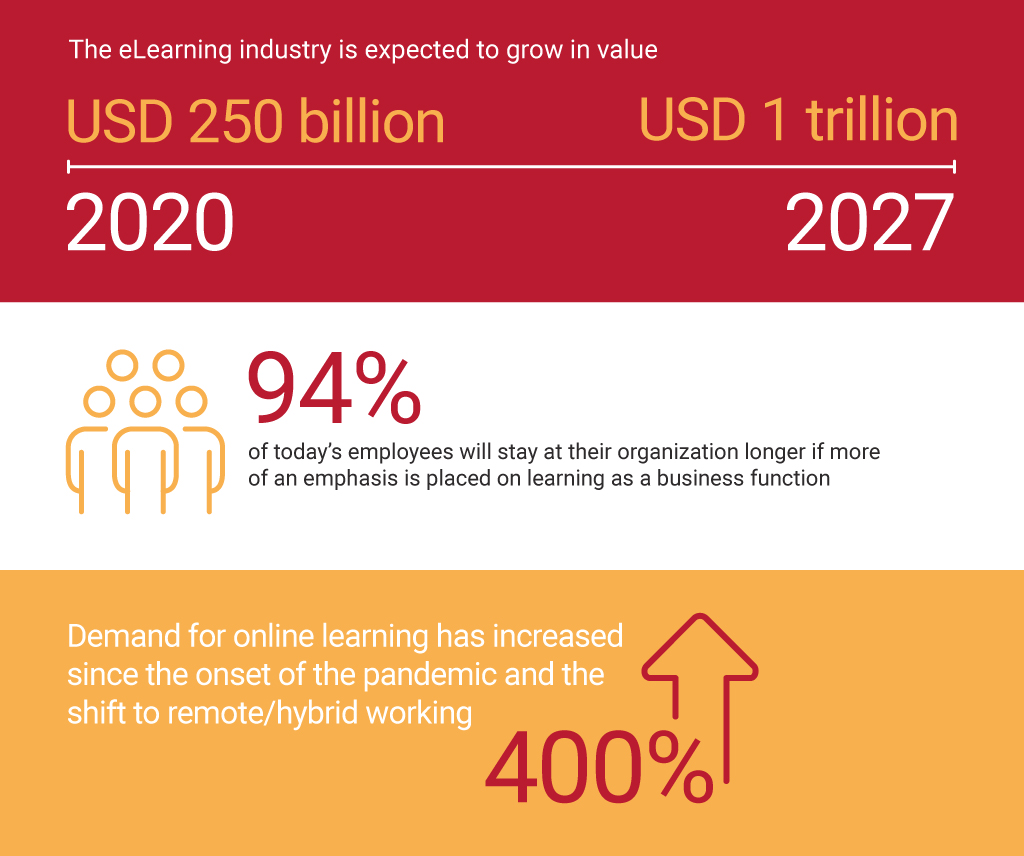 Stats on Health and Wellness
20% of global workers polled said their boss had stopped caring about their work-life balance during the pandemic, leaving 54% feeling overworked and 39% feeling completely exhausted.
When asked why they like going to work, 26% of employees said they enjoy meeting their co-workers face-to-face.
As the hybrid workplace takes shape, 40% of people believe they can be productive and healthy from anywhere — whether fully remote, onsite, or a combination of the two.
Employee burnout is now a serious issue and 75% of workers in a recent study said they wished their employer provided some form of mental health support.