Intuition & Novartis Win Bronze in Brandon Hall Excellence Awards
Intuition – in partnership with Novartis – are delighted to announce that we have been awarded 'Bronze' status by Brandon Hall Group in the category of Best Use of Video in Learning.
Brandon Hall Group is a research and analyst firm with more than 10,000 clients globally and 25 years' experience delivering research-based solutions that empower excellence in organizations around the world.
Sarah Clarke, CEO of Intuition America, was on hand to pick up the award and was rightly pleased with the accolade.
"Being recognized by a global organization such as Brandon Hall Group for our innovative and engaging solutions is very rewarding," she said. "We are proud of our partnership with Novartis and all we have achieved together over the past decade. We are looking forward to our continued growth and success as leaders in employee engagement and effective knowledge management."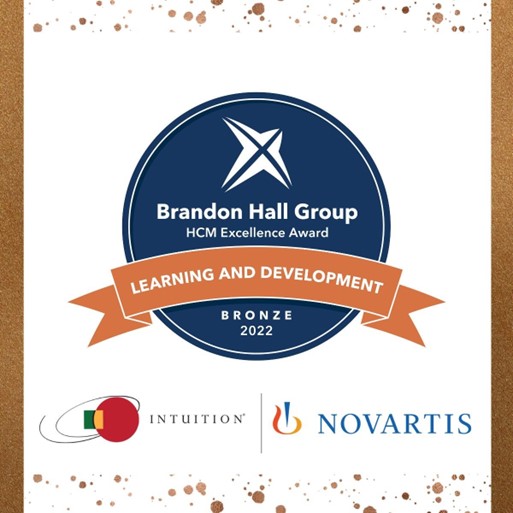 Intuition are proud to have received this recognition from Brandon Hall Group and are looking forward to executing more successful learning projects with our trusted clients. Achieving Bronze status not only demonstrates to our clients the quality and integrity of our products, but also stands as a testament to the hard work and dedication of Intuition's team.
Julianne Brierley, Director, Head, Ethics, Risk & Compliance Learning at Novartis, was equally pleased and proud at the award:
"Partnering with Intuition on the development of much of the Novartis US Ethics, Risk, and Compliance required learning curriculum has been an excellent experience. The partnership between our two organizations has elevated the creativity, efficacy, and engagement of our training. We are thrilled to have been recognized by this organization as a leader in our field," she said.
If you would like to learn more about Intuition's award-winning and cutting-edge custom learning offerings, please click here.