As Payments Competition Heats Up, Big Tech Firms Run Into Regulatory Roadblocks
Despite the efforts of some activists, the technology industry remains largely unregulated – able to do more or less what it likes with user data, and largely free from content restrictions. Recently, however, the world's Big Tech firms have begun to move into the highly-regulated financial industry. As they try to grab a share of the rich revenues available in banking, payments, lending, and other financial services, their free-wheeling cultures are running up against hard regulatory limits. Can Big Tech companies adjust to playing by the rules – and what does it mean for the evolving payments industry?
Few financial sectors have seen more change and innovation than the payments industry. As technology has made communication and data exchange faster and easier and new cryptography techniques have enhanced information security, a growing number of new firms have entered the payments space. Regulatory efforts such as Europe's Payment Services Directives (PSD and PSD2) have also encouraged the development of new tools and providers by opening up payments systems.
Among those eager to make inroads into the payments business are Big Tech firms. Google Pay, Apple Pay, Amazon Pay, and Facebook Pay have all launched to varying levels of success as the world's tech powerhouses seek to build new revenue streams and expand their share of the consumer's wallet.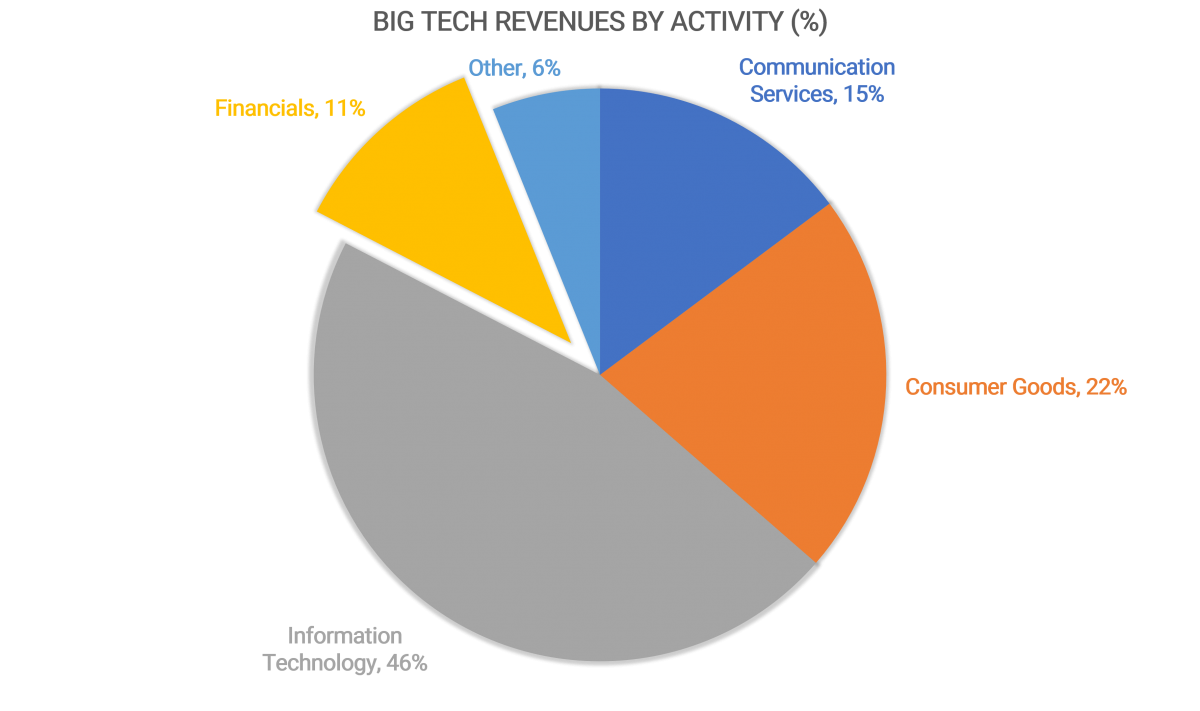 Source: BIS. Big tech in finance: opportunities and risks. 2019. The sample includes Alibaba, Alphabet, Amazon, Apple, Baidu, Facebook, Grab, Kakao, Mercado Libre, Rakuten, Samsung, and Tencent.
In general, Big Tech firms have taken a relatively cautious approach to the financial sector, working with licensed partners to offer services rather than building them from the ground up.
Google, for example, reportedly plans to launch consumer bank accounts in partnership with Citi (although details are scarce) and Apple chose to launch its branded credit card in partnership with Goldman Sachs. Using a licensed partner means that tech companies can avoid investing in costly banking licenses or the intensive due diligence and compliance required of licensed financial services providers.
However, despite their caution, Big Tech firms' financial products have not escaped regulatory scrutiny. In Europe, for example, Apple is facing new rules that may require it to share information about its proprietary Apple Pay technology. And Facebook's attempt to launch a so-called stablecoin named Libra – a digital currency pegged to the US dollar and other currencies – has run into stiff opposition from global financial regulators and lawmakers.
Other legal constraints to Big Tech's expansion into finance are also emerging. In Brazil, for example, Facebook's WhatsApp mobile payments service was suspended over competition concerns, and companies like Apple and Google are on competition authorities' radar in Europe and the US.
Incumbents prepare to fight back
Another related roadblock in the path of Big Tech's move into finance is the reaction of incumbents. Few existing players are prepared to allow Big Tech firms to steal a march on their customers, and big banks and others are preparing to push back on the advance of tech firms.
One key advantage that Big Tech firms enjoy is that they have access to extensive data about their customers. Part of their rationale for moving into payments is that this will give them access to transaction data, which can then further inform their advertising strategies and enhance their understanding of their users.
Traditionally, banks and other financial firms have enjoyed a near-monopoly on transaction data. However, new regulations such as open banking rules in Europe and the growth in transaction data collection by retailers and others have eroded this advantage. With Big Tech firms now also accessing growing volumes of transaction data, incumbents are increasingly aware that they face a significant competitive challenge.
In response, they are actively lobbying lawmakers for level-playing field rules that will see new entrants required to follow the same rules as licensed providers. As regulators take an increasingly skeptical view of the power of Big Tech firms and as these firms push aggressively into hotly contested new markets, it seems probable that stricter rules are on the way.
Intuition Know-How has a number of tutorials that are relevant to payments and consumer/retail banking:
Payments – An Introduction

PSD2 & Open Banking

Digital Money & Mobile Payments

Payments Systems (Coming Soon)

Payment Cards (Coming Soon)

Credit Cards (Coming Soon)

Cards & Payment Programs (Coming Soon)

Bitcoin & Blockchain

Business of Consumer (Retail) Banking