The Impact of MiFID II and ESMA on Continuous Education
Since the introduction of the European Union's original Markets in Financial Instruments Directive (MiFID) in 2007, it – and its successor, MiFID II – has had a profound impact on the financial services industry in Europe and around the world. The MiFID and MiFID II regimes have significantly altered the operations of all organizations in the sector and increased their regulatory and compliance burdens.
What is MiFID II?
MiFID's original goal was to harmonize the European market for investment services and activities to increase competitiveness across the region. MiFID II aimed to fix weaknesses in the original directive that had emerged in the intervening years and during the global financial crisis of 2008.
Throughout 2017, the European Securities and Markets Authorities (ESMA) published a series of guidelines communicating its interpretation of the different sections of MiFID II. These guidelines were written to condense and summarize the original legislation, which included over 1.4 million paragraphs of text. One of these publications, titled "ESMA guidelines for the assessment of knowledge and competence," covered the new requirements for investment advisors and investment information providers to have a minimum benchmark level of knowledge to continue operating in a professional capacity.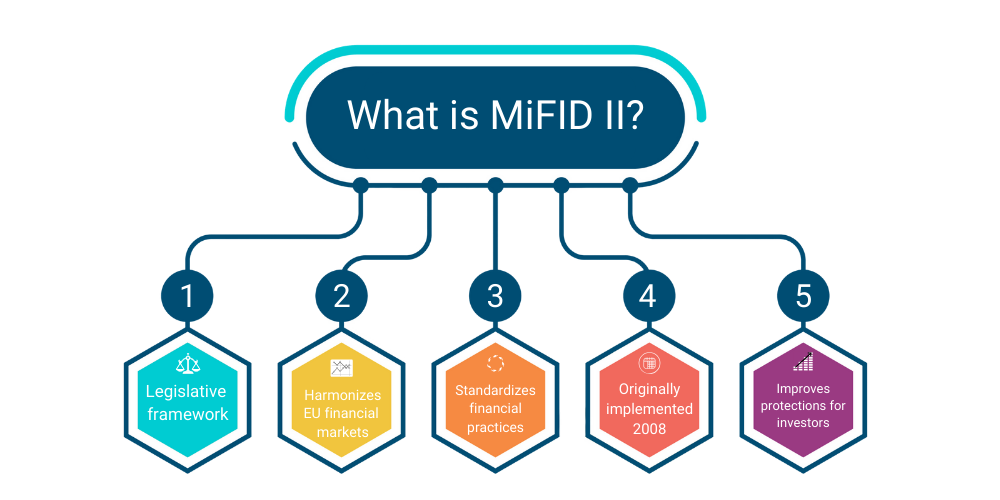 An important element of these guidelines was a requirement to demonstrate "ongoing competency," without specifying how this would be certified and leaving those details to be decided by the relevant national Competent Authorities. While many jurisdictions already had licensing and examination systems in place, some, such as Luxembourg, had no knowledge benchmark or examination to become an accredited investment advisor/information provider. In Belgium, on the other hand, the existing legislation "Loi Willems" was comprehensive in its coverage of education and training requirements for financial services professionals and was simply amended to include additional provisions from MiFID II.
These guidelines have been interpreted in various ways by Competent Authorities around the EU, with Norway's Finanstilsynet stating it will not impose stricter national requirements than those laid down by ESMA's guidelines, along with Denmark and others.
What Impact Has MiFID II Had?
The new knowledge and competency requirements led to a scramble across the EU/EEA as authorities, financial institutions, professional associations, and accrediting bodies attempted to adapt to the new regulatory landscape and ensure their tens of thousands of employees and members were compliant. The initial hurdle of knowledge benchmarking has now generally been overcome, and companies are in the process of implementing robust continuous education programmes for their employees to satisfy the ESMA requirements to demonstrate "ongoing competency."
"Companies are in the process of implementing robust continuous education programmes for their employees to satisfy the ESMA requirements to demonstrate "ongoing competency"
By engaging with well-established CPE programs run by accrediting bodies or professional associations around Europe, many organizations and individuals have overcome the difficulties involved with demonstrating ongoing competency. These programs already require a certain number of education and training hours per year (or over a specified time period) to retain professional qualifications or licenses and, therefore, can serve this purpose.
Other organizations have implemented their own internal education programs – incorporating classroom training, internal knowledge and competency assessments, digital learning, and external trainers/auditors – to satisfy the requirements of the ESMA guidelines. The design of these programs must be carefully considered to ensure the relevant national Competent Authority is satisfied.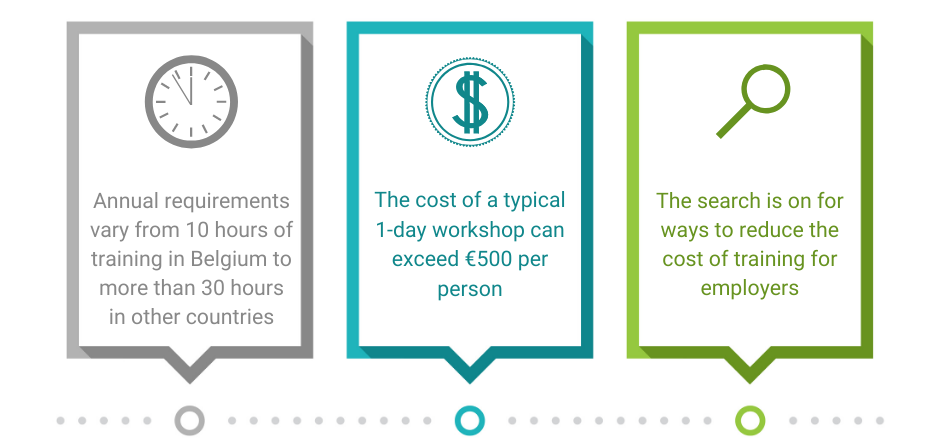 With annual training requirements varying hugely across the continent, from ten hours of training annually in Belgium to more than thirty hours in other countries, the costs to organizations of this directive can be enormous depending on the size of their workforce. The cost of a typical 1-day workshop can exceed €500 per person, in addition to the loss of productivity incurred by having employees away from their desk. The search is on for ways to reduce the cost of training for employers, as well as minimizing the time employees spend out of office.
How Can You Address MiFID II?
Working with an experienced knowledge solutions company on the design and implementation of new educational programs is imperative. By combining an extensive financial learning library with classroom-based training when necessary, bespoke blended learning solutions can complement an organization's existing training operations and satisfy the regulatory requirements of the ESMA guidelines. Using a blended approach may result in significant cost and time savings for organizations. The inclusion of classroom training means that any recent regulatory changes in the industry can be discussed in a collaborative learning environment, while online learning lets the learner fulfill the remaining required hours at their own pace.