Virtual Classes: Successful Classroom Learning from a Distance Part 1
We all know that virtual classes offer some attractive benefits over face-to-face classes. With the COVID-19 crisis, however, delivering virtually rather than physically is more necessity than option and the already known advantages of delivering classes virtually – easier access to a dispersed audience, substantially lower cost, and the ability to record and archive sessions – are almost an afterthought in this unprecedented 'new normal' to which we are all adjusting.
But how do you ensure that your online class doesn't become a poor substitute to classroom training? How can you make it as effective and engaging as its face-to-face counterpart?
Follow our short 3-part series of Tips to Virtual Class Success to make sure your virtual classes become the success they – and you and your learners – deserve.
Part 2: Running Smoothly
Part 3: Tips for Maximizing Impact
Webinars/VILT: Preparing for Virtual Success
1 Design for the Medium
Your design of a virtual class session should benefit from as much design effort as you would give to designing any other form of learning. Developing a virtual class requires at least as much time as developing a stand-up class and your approach should leverage the advantages and resources available through the online medium.
There are some unique course design requirements for an online class. There is a lot going on in a live online classroom; the content focus needs to be clear and tight, and cognitive overload must be avoided.
Keep your focus on a few key points that the learner can absorb and then feel comfortable to engage with in the online discussion, and wherever possible, emphasize active learning and collaboration.
Follow a clear, proven methodology for your design, such as Gilly Salmon's Five Stage Model (1), which is a structured approach to planning, structuring, and facilitating and guiding online activities. An effective online class calls for well-defined learning outcomes, considered pedagogical design, and astute management of the flow of discussion and learning engagement.
2
Accentuate the Visual
Online learning, whatever its form, calls for compelling visualization of content. Cues that we might rely on in the face-to-face context – body language and tone of voice for instance – are significantly limited in an online context, and so the visuals and the pacing of your delivery become all the more important.
Keep images strong and text limited to avoid overwhelm. Don't stay too long on the same visual, and, if there are to be pauses in your presentation, let participants know when that is about to happen.
Consider introducing yourself using webcam, or at least with a picture of yourself, rather than just audio, to bring an element of all-important human connection to the virtual classroom.
Less clear, however, is what impact seeing the instructor's face has on learning outcomes: in one Stanford Learning Analytics study on students watching learning videos, 2/3 expressed a preference to the see the instructor's face, 1/3 would prefer not to, citing reasons such as avoiding distractions in the learning. Different strategic approaches to using the presenter's face in one part of the study did not appear to have a significant impact on learning outcomes. It's a topic of ongoing research: see the Stanford Learning Analytics site, Lytics, for emerging research on this and other aspects of digital class design (2).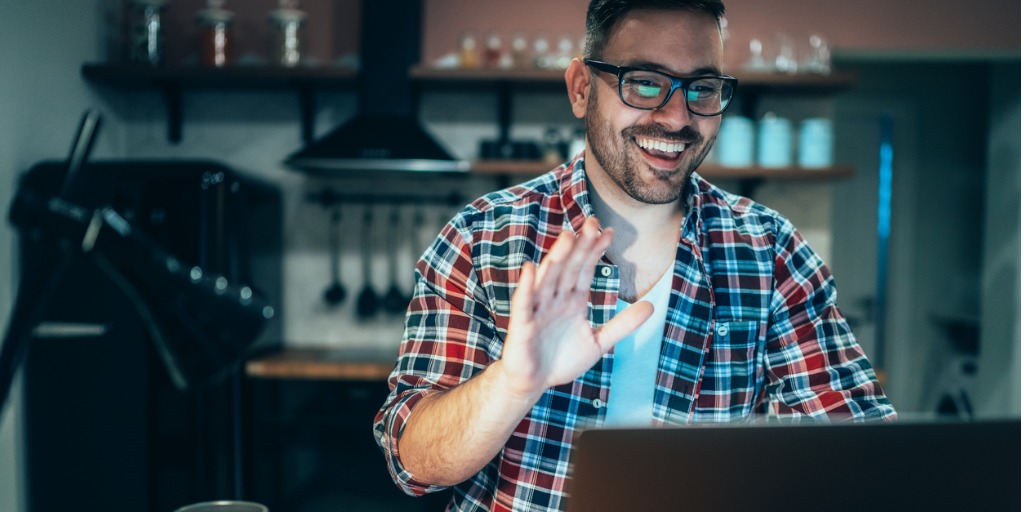 3
Build in
Participation
Interaction is a critical factor for learner success in virtual classes, and studies have found that both instructional and social interaction are important to learning success.
An online class involves a few fundamental types of interaction – Learner to Content, Learner to Instructor, and Learner to Learner – and enabling these interactions at a high level is an important contributor to learning satisfaction.
Make learner participation a core feature of your virtual class design. Make the most of the interactive features that virtual class technologies provide – polling, chat, group discussion and so on – to make it an active learning experience. We'll explore this in more detail in our posts on Virtual Classes: Running Smoothly and Virtual Classes: Maximising Impact.
The frequency and quality of the interaction is also significant, as are increasing opportunities for spontaneous interaction. Ideally there should be opportunities to interact every four or five minutes, and, when you pose a question or put up a poll, remind your learners what feature to use to respond and how to access it on their dashboard.
References