Blends And The Virtual Class
Building successful learning is about intentionality. Tuning into learner needs and perspectives, being confident in your educational model and methodology and using a tried and tested toolkit of design principles provide a base of solid, workable principles and practices when we develop training solutions. However, learning and performance is complex. An additional must-have layer to bring it all together is expert knowledge of your learning ecosystem of tools, channels and media to support and deliver an effective learning journey.
Successful learning today typically involves a blend of channels, using the best capabilities of every available medium to create a learning environment that meets the needs of learners, wherever they are and whatever their context.
***
This is the fourth article in a four part series which briefly describes how we design our learning programs. It gives an insight into some of the principles and practices that inform what we do. You can access the other 3 articles below:
With the COVID-19 crisis, virtual classes have leapfrogged to center stage; they are certainly having their moment. Virtual classes offer a reliable, inexpensive and endlessly flexible, digital learning delivery channel. And now they have moved from being not just an option but, in some cases, the only option to continue to deliver education and learning across educational spheres, for everything from high school education to yoga classes.
A wide range of virtual class and meeting platforms are available: Adobe Connect, Microsoft Teams, Zoom, and Webex, to name a few. And their features and capabilities are continually evolving as they adapt to meet the needs of workers and their organizations in the sudden migration to remote working and learning.
These platforms mean that all sorts of person-to-person interactions – training, presentations and group discussions – can be facilitated remotely with or to a group in a room, individuals at their desks, various groups in rooms or to a combination of both. And they bring people together: a virtual classroom or webinar is a place where the human element prevails and offers an opportunity to intentionally and meaningfully shape the learning environments that we create.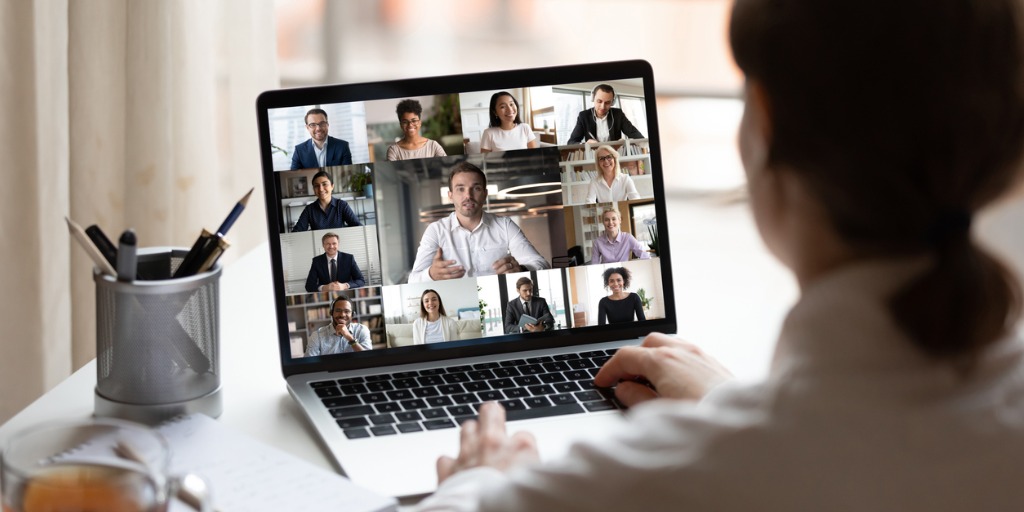 As with other modes, core learning design principles hold true, with some design considerations, such as avoiding cognitive overload (less is more), being particularly important in this medium. Migrating a face-to-face (f2f) class to a virtual class requires more than just popping a trainer's slide deck onto a virtual platform. It requires a careful design process to make learning work effectively in the virtual class environment, adapted to the affordances of the medium and the needs of learners, along with skillful facilitation. Indeed, given the current environment there is a huge risk that face to face classroom deliveries are too hastily migrated to virtual online experiences, without appropriate design modification.
A rough rule of thumb for example, on design time required to make the f2f to virtual leap, is of the order of 10:1; this means it will take at least 10 hours design work to migrate one hour of classroom learning to virtual online delivery. Yes, that much, at least.
If trainers are not experienced with the medium, a core phase of the transition from f2f to virtual must include a practice and feedback phase. Virtual course participants expect (and deserve) a professionally designed and delivered, virtual experience. If as an educator you have not delivered using a virtual platform, developing your virtual presence and practice and indeed your digital personality takes time, feedback and for most people some tweaking and evolution.
For those moving into virtual facilitation and delivery, we recommend, at least initially, using detailed storyboards that cover the interactions used during class time from polls, to chat, to breakout room activity, alongside the duration of interactivity. As we know, virtual training speeds along nippily and a detailed blueprint like this, keeps both presenter and producer (the person handling the backend of the experience) on track, clarifying what to do, say and look for, from participants. In a virtual classroom, interaction with participants should occur on a regular basis, even as frequently as every 3-5 minutes, so having a clear blueprint of what's next up, works well for everyone involved. The use of carefully designed screens with a minimum of content avoids overloading human memory, supporting new learning.
In fact, this enforced shift from a face to face teaching experience in a classroom to a virtual training experience, can ironically offer us the ideal architectural design reset opportunity. A moment in time, to take stock of our training, reconsider programs goals and objectives, consider new modalities and potentially re-evaluate the best way to create an even more successful learning program

Too often, particularly with compliance material, we think in terms of 'one and done', or event based learning. The shift to virtual has encouraged L&D to think about learning in terms of journey creation. Rather than exposing our learners to week long workshops with heavy burdens of content delivered in turgid slides, we can actually space learning through seeding content with pre-reading, videos to watch, podcasts to listen to, all before our virtual learning class. If we are really interested in helping our people recall material, we must offer it in a multitude of ways with rounds of retrieval practice built in. What happens before virtual training programs is as important as what happens during them and then after them (follow through). The virtual becomes virtuous by becoming just one component in a more elaborate and thought through learning blend.
Too frequently in the past, location-based learning programs delivered through a series of workshops were overly concentrated and dependent on the day's or week's experience. Now, with a migration to virtual, we have a real opportunity to carefully plan our teaching and learning to leverage one of the greatest cognitive psychological effects, the spacing effect. This effect advises us that material delivered over spaced intervals, trumps material delivered in a once off or massed presentation. Now it becomes about mixing and blending learning formats, to use media and channels where and how they most enrich and add value to the learning experience. By cultivating an expert knowledge of your learning ecosystem of tools and channels and their educational affordances, we can support and deliver even better learning journeys. Designing the right components in a blend will deliver results that may be greater and more powerful than the sum of its parts.
We started by saying building successful knowledge and learning solutions is all about intentionality. If we are serious about making effective and successful learning, everything we do should be intentional. We must intentionally craft a learning journey that recognizes what learners and organizations require from their learning, use principles that will ensure learners take back what they need to the job, while sustaining and maintaining their skills and knowledge over time. We must use robust learning design principles in everything we do, whatever the medium or delivery channel whether we're talking about push or pull, micro-learning or structured curriculum, traditional, blended or gamified.
Learning is complex and should always demand a complexity of expertise and vision to create the correct stages in the learning journey.